COTTON
n° 0      "orso" cordonnet
n° 4      "orso" cordonnet
n° 40    mercerised thread
n° 50    mercerised thread
n° 80   mercerised thread
n° 100  mercerised thread
2. DESIGN
Project for a brooch
3. WARPING
it is made of two layers of fabric, three sheets of straw-paper, a sheet with the design and a sheet of greaseproof paper; all stacked.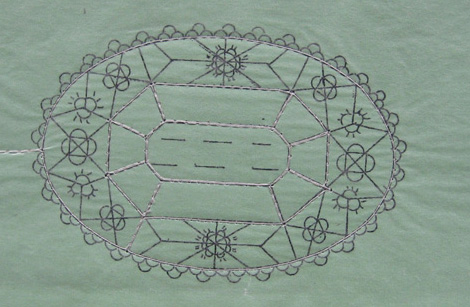 Seams are executed with a pedal sewing-machine following all the design profiles within which the guipure and external support for the Venice point lace will be carried out.
4. GUIPURE
it identifies the first stage of actual work which includes several sub-points, which are the following in this specific case: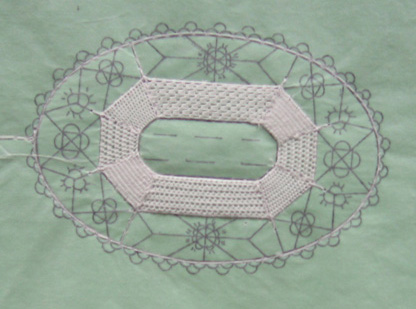 triple Greek with a Greek line
Greek netting
fixed Sacolà
light Sacolà
5.VENICE POINT
made by a series of small bars connecting the various shapes and is composed of many sub-points, which are the following in this specific case: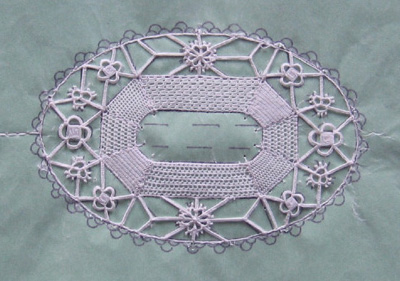 simple Bars
three-fold Rosettes with picot
eight-fold Rosettes with picot
four-fold Vovetto (small egg) with a Rosette and no picot
6. BURANO POINT
it is made by a net of tiny rectangular meshes and can present various inner deco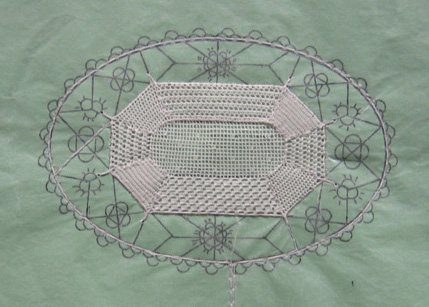 rations, the following in this specific case:
Rede macà or bruised Net
7. FLAT RAISED-WORK
made by applying a thin thread (80) onto a cordonnet thread (0) by small points following the profiles of the design, whose shapes have been filled in by the guipure.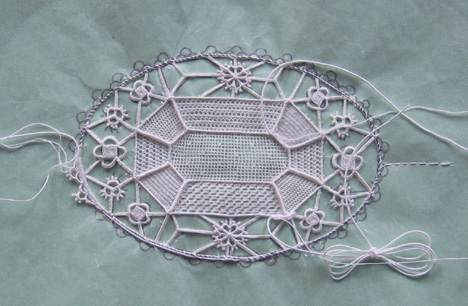 RAISED GROS-POINT may be obtained in two ways:
adding a cordonnet thread (0) to the flat raised-work by buttonhole stitch (called scallop by the embroiderer)
applying a metal thread along the outer border paired with a cordonnet thread, linked together by the buttonhole stitch, over which a three stitch scallop is executed.
8. FINAL STEP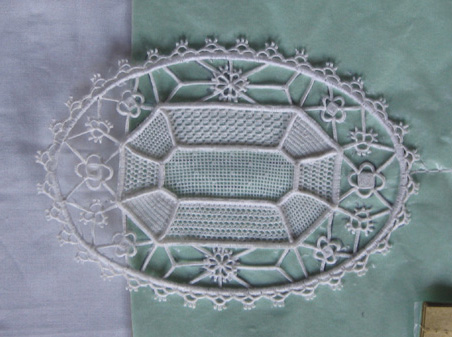 Having completed the border with the buttonhole stitch and three stitch scallops, the artefact is turned upside-down and one proceeds to detach it from the various layers of fabric and paper cutting the warping with a cutter and finally eliminating the fragments of remaining threads by means of tweezers.
9. FINISHED BROOCH
10. ANOTHER BROOCH SAMPLE
The following points are present here: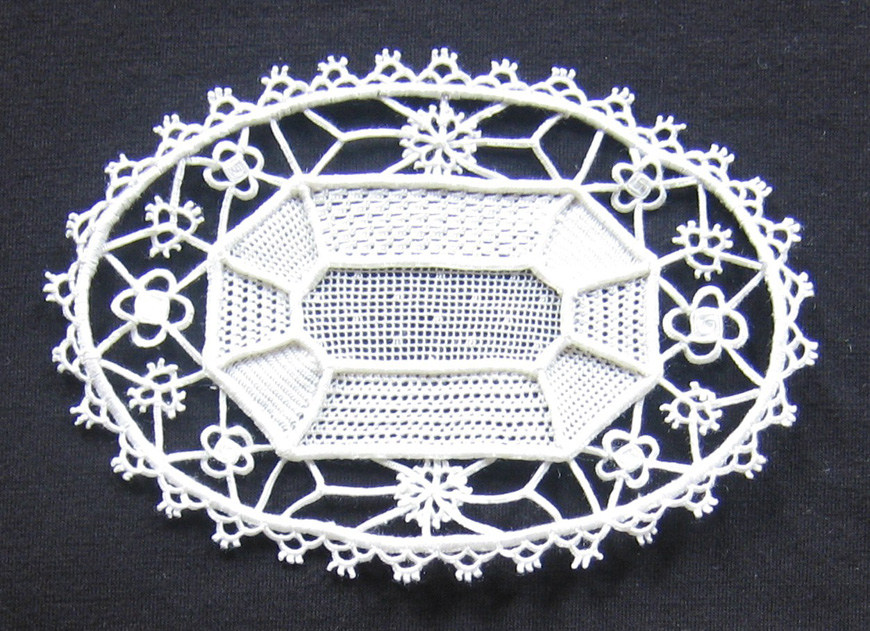 Creme by 13; creme by 7, light sacolà; fixed sacolà; double Greek (=guipure)
Venice point: row of bars with picot
Burano point: net with creme on 7 rows.
Raised-work: flat; twisted; Gros point.